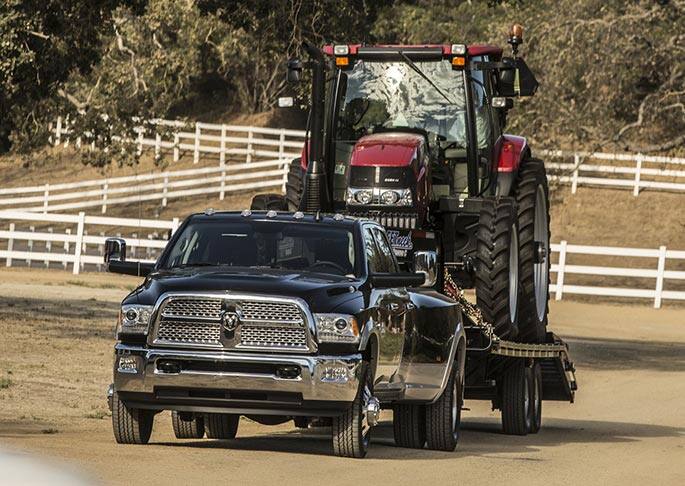 On April 8, 2015, at the Denver Auto Show, Fast Lane Truck (TFLtruck) named the 2015 RAM 3500 the winner of its first Gold Hitch Award in the Heavy Duty Diesel category. The RAM 3500 received this award for multiple reasons: First, because of its powerful 6.7-liter Cummins turbo diesel engine that provides excellent torque. Secondly, the truck offers a cargo view camera--an excellent technological feature. Thirdly, the pickup offers an air bag suspension option. 
Fourthly, In addition to the reasons above, the RAM 3500 knows how to tow. To receive this award, the RAM 3500 had to tow a 21,600-pound trailer behind it. Then, with the trailer, it had to climb 11,000 feet. According to Andre Smirnov, Technical Editor at TFLtruck, the truck performing this hauling had a "Gross Combined Weight of nearly 31,000 pounds." TFLtruck editors did this at a place called the "Eisenhower Pass"--also known as the "Ike Gauntlet"--outside Denver, Colorado. Smirnov said that "The RAM dually came out on top based on its confident downhill performance, consistent uphill climb and leading observed fuel mileage among the competitors." Although the 2015 3500's towing performance was important, editors also considered how the truck ran when it wasn't loaded along with its downhill performance.
The RAM 3500 will tow up to 30,000 pounds, and its payload is 7,390 pounds. It provides 865 lb-ft of torque, and offers great fuel economy at 29 mph highway with EcoDiesel. These are all "best-in-class" features if a very heavy-duty pickup truck is what you're looking for. It offers great braking capability and good comfort features. Ultimately, it can handle extreme towing. It is also great to use in the winter as a plow truck.
More About TFLtruck
TFLtruck is an online publication that many truck fans go to when they want to learn about the newest truck happenings. The website is full of news publications and videos. Over two million people get on the website every month specifically for the videos. The test that the RAM 3500 went through, the "TFL Ike Gauntlet" extreme towing test, is available for viewing on the website. The only models available for the "Gold Hitch" award were 2015 model years or vehicles that had received major changes for 2015. In addition to the Heavy Duty Diesel segment that the 2015 RAM 3500 competed in, there were also Midsize, Full-Size SUV, Half-Ton/Light Duty and Heavy Duty Gas categories.