2013 Ram 1500 Tradesman 4x4 Reviewed
Like its bigger siblings, the
new 2013 Ram 1500
-- the numerical suffix denotes that it weighs half a ton--is available in different trim combinations. The baseline trim for the truck is called the Tradesman, with the choice of getting a front-wheel drive (4x2) or an all-wheel drive (4x4).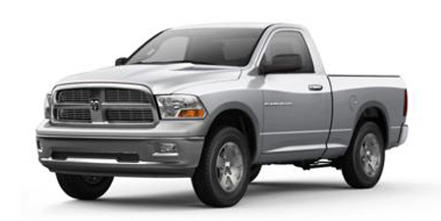 The latter drivetrain enhances the truck's off-road abilities, which is what makes the Tradesman 4x4 the better choice. It is also ideal for budget-minded customers who still want comparatively great value.
The 2013 Ram 1500 Tradesman 4x4 marks part of the fourth production cycle of the Ram truck from United States manufacturer Chrysler. Each truck is powered by a 4.7-liter V8 engine that generates 310 horsepower at 5,650 revolutions per minute (rpm) and 330 pound-feet of torque at 3,950 rpm.
The engine is paired with a six-speed automatic transmission called the 65RFE. Fuel economy is measured at 14 miles per gallon (mpg) in the city and 19 mpg on the highway.
The 2013 Ram 1500 Tradesman 4x4 is part of a generation of production in which Chrysler offers a bigger truck and more body-style choices than past model years. The Tradesman 4x4 offers a Regular Cab, which is a two-door truck; and a Quad Cab and Crew Cab, which are four-door.
The Regular Cab comes with a 6-feet 4-inch or 8-feet box, the Quad Cab comes with a 6-feet 4-inch box and the Crew Cab is available only with a 5-feet 7-inch box. Thus there are four trim combinations for the 2013 Ram 1500 Tradesman 4x4: Regular Cab 6-4, Regular Cab 8, Quad Cab 6-4 and Crew Cab 5-7.
Regardless of body style and box size, each 2013 Ram 1500 Tradesman 4x4 rides on 17-inch steel wheels fitted with all-season Goodyear® tires. Electronic Stability Control, four-wheel anti-lock disc brakes and heavy-duty shock absorbers enhance the truck's braking, driving and handling abilities.
The Regular Cab version of the 2013 Ram Tradesman 1500 4x4 provides enough interior space for three passengers; the Quad and Crew Cabs double that number. For entertainment, each truck has a six-speaker Uconnect® 4.0 AM/FM stereo system. Four airbags and vehicle anti-theft system provide safety and security.
If you are in
Yonkers, New York City or Westchester and looking for a new 2013 Ram 1500 Tradesman 4x4 truck,
stop by Central Avenue in Yonkers, NY. We have specials and incentives on all Ram trucks everyday!