2013 Dodge Durango Citadel SUV Reviewed
Dodge has been an established name in the world of pickup trucks for decades, but that success didn't mean that entering the world of SUVs would be an easy move, particularly with so much competition in the class. However, judging by the
2013 Dodge Durango Citadel SUV
, Dodge is in the SUV market to stay and customers will likely respond due to the quality of this model.
The 2013 Durango Citadel SUV offers high-quality construction and a balance of superior performance features and comfort for passengers. The combination of elements makes the 2013 Durango Citadel SUV a surefire winner in anyone's book.
2013 Dodge Durango Citadel Offers Performance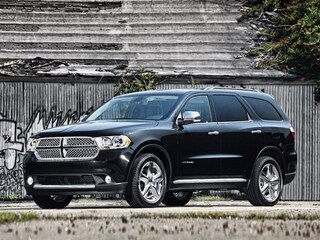 As one might expect from Dodge, the 2013 Durango Citadel SUV offers plenty of power. Customers can choose from a V6 or a V8, with both adequately powerful for everyday driving and then some. Those opting for the Hemi V8 can take advantage of 360 horsepower, making it the superior choice for hauling and long trips over demanding terrain.
Of course, the V6 version is hardly weak, with 290 available horsepower. The added benefit of opting for the 3.6-liter V6 engine is that it offers 23 miles per gallon on the highway, which is well above the competition as far as many SUVs are concerned. Thanks to the efficient transmission and engine, even the V8 version of the Citadel provides 20 miles per gallon on the highway and 14 miles per gallon in the city.
Superb Handling on the 2013 Dodge Durango Citadel


All of the power does not overwhelm performance, though, as the 2013 Durango Citadel SUV does offer superb handling, braking and steering, which is impressive for a vehicle of this size. Acceleration is smooth and even when towing a trailer, there is still more than enough power to pass on flat land and hills alike.
Of course, it's not all about brute strength with the 2013 Durango Citadel SUV. The vehicle offers an air of elegance inside and is appointed with many features, such as satellite radio, three-zone temperature control, remote starter and much more. Of course, there are also many options available for full customization. With power and comfort, there is hardly a flaw to be found on this model.
If you're looking for a
2013 Dodge Durango Citadel SUV in the Bronx, Westchester or Yonkers
area give us a call at 888-710-8804 or come visit the Central Avenue Chrylser Dodge Jeep Ram dealership at 1839 Central Park Ave., Yonkers, NY. 10701.