Chrysler 300 Motown Edition Reviewed
Chrysler trumpets its love-affair with Detroit, aka, Motown. Beginning with the 2013 Detroit Auto Show, they will introduce the
Chrysler 300 Motown Edition
- along with commercials featuring Motown Records' Berry Gordy amid music from Motown's heyday. Extending the promotion is a SD Card with 100 tracks from the Motown recording catalog.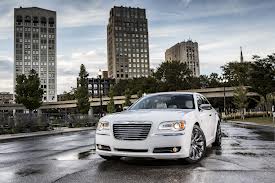 The premier TV commercial will follow Mr. Gordy from Detroit to Manhattan linking the dynamism of both skylines as he brings his vibe to the Lunt-Fontaine Theater in his Chrysler 300 Motown Edition for the opening of Motown: The Musical.
Debuting at $33,900 (competitive with Audi A4, Acura TSX, and BMW 3-Series), the Chrysler Motown tops the base 300 RWD by $3k. A 292-hp 3.5-liter Pentastar V6 links with a ZF 8-speed automatic for fuel efficiency comparable to the BMW 3-Series and out-performing the Audi A4 and Acura TSX.
20" aluminum wheels, chrome trim, and Motown badges accent exterior Cherry Red, Gloss Black, Bright White, and Jazz Blue. Inside, high gloss black olive ash wood trim reflects black piping edges Pearl White Nappa leather upholstery.
It is not the blinged-out custom the Motown name might suggest. Instead, it is a bold sleek profile brightened and lightened by a 7-blade grille and the repetition of its visual motif on the wheels, fascias, and handles.
Sound comes through its 10-speaker system by Beats operated from an 8.4-inch touch-screen display.
The Motown Special Edition follows a productive track record of uniquely special editions from Chrysler, and its premier coincides with the 10th anniversary of the Chrysler 300 8-Mile edition continuing its advertising relationship with Eminem.
It may be Detroit built, but the
Chrysler 300 Motown
makes a certain special music in NYC. For more information, contact Central Avenue Chrysler Jeep.