2012 Jeep Compass Reviewed

When the Jeep Compass debuted for the 2007 model year, some enthusiasts of the sports utility vehicle (SUV) brand scoffed at it. To them, a crossover SUV -- a vehicle that lessens off-road capabilities in favor of a more family-friendly feel -- was the anti-thesis of what Jeep stands for. However, with the
2012 Jeep Compass
, manufacturer Chrysler Group LLC has moved the model closer to "true Jeep" status while keeping the driving feel of a sedan or family car.
2012 Jeep Compass Offers Four Trims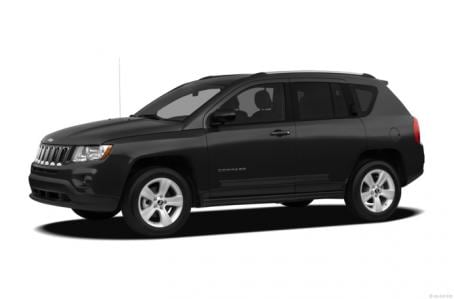 The 2012 Jeep Compass has four trims, in ascending order: Sport, Latitude, Altitude and Limited. Each trim is available with one of two drivetrains: two-wheel drive (4x2), and all-wheel drive (4x4) for transfer of engine power to all four wheels instead of the two front ones. Customers getting a Sport 4x4 or Latitude 4x4 can also add an All Weather Capability Group package that strengthens the SUV's capability to combat various types of road surfaces caused by cold or rainy weather.
Available for all trims is the Freedom Drive II Off-Road Group to effectively handle surprises in off-road travel, such as steep grades and rocky surfaces. Most 2012 Compass SUVs comes with sturdy 17-inch alloy wheels and tires. (The Limited Edition has 18-inch ones.)
2012 Jeep Compass: Performance & Fuel Efficiency


In addition to better control, the 4x4 version of the 2012 Jeep Compass has a more powerful inline four-cylinder engine, which generates 172 horsepower. The 4x2 engine generates 158 horsepower. The engine of the 2012 Compass is usually combined with either a five-speed manual transmission or a continuous variable transmission to improve fuel efficiency. Depending on the combination of drivetrain, engine and transmission the 2012 Compass can offer a peak fuel economy of 23 miles per gallon (mpg) in the city and 29 mpg on the highway.
Features of the 2012 Jeep Compass


The 2012 Jeep Compass is equipped with a vast array of safety features that include six airbags, vehicle anti-theft system with key-less entry, power door locks with child safety feature and active front-head restraints for eliminating whiplash. Big enough for five people, the SUV has a welcoming interior, which includes heated leather seats, an elaborate 6-CD player system for entertainment and a Garmin navigation system for driving directions.
If you're looking for a
2012 Jeep Compass in the Bronx or Yonkers
area give us a call at 888-710-8804 or come visit the Central Avenue Chrylser Dodge Jeep Ram dealership at 1839 Central Park Ave., Yonkers, NY. 10701.