2012 Dodge Ram 1500 Express Reviewed
The Dodge Ram is one of the most iconic lines of trucks in the United States, and that means that the company has to continue providing increased value and innovation if it wants to keep drivers satisfied. And when it comes to the 2012 version of the Dodge Ram 1500 Express, the general impression is that the mission has been accomplished. With brute strength under the hood and high-end appointments in the cabin, the
2012 Dodge Ram 1500 Express
is a model worthy of praise.
Options on the 2012 Dodge Ram 1500 Express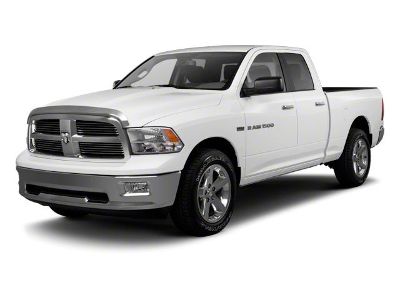 The 2012 Dodge Ram 1500 Express offers many of the same components of other 2012 Dodge Ram trim levels, albeit with a few added extras that justify it being a model of its own. Luckily, there are many options to satisfy everyone looking to get a piece of the action, as the 2012 Dodge Ram 1500 Express is available in 4x2 and 4x4 drivetrains and either a five- or six-speed automatic transmission. Available axle ratios for the 1500 Express are 3.21, 3.55, 3.92 and 4.10.
2012 Dodge Ram 1500 Express Offers Performance


Another significant choice drivers will have to make is which of its three engines to take for a ride. Drivers can opt for the 3.7 liter, 215 horsepower V6 engine; a 4.7 liter V8 that produces 310 horsepower or the beastly 5.7 liter HEMI V8 equipped with 390 horsepower. In any case, there is no shortage of energy to haul cargo and trailers, whether it's across town to a construction site or across the country to visit family.
The 2012 Dodge Ram 1500 Express provides many impressive interior features as well. A six-CD changer with MP3 audio, automatic headlamps, and behind-the-seat storage bins are standard, and upgrades include Sirius satellite radio, Bluetooth connectivity and a UConnect voice command system.
Safety Features of the 2012 Dodge Ram 1500 Express
The 2012 Ram 1500 Express also provides a number of standard safety features, including electronic stability protection, anti-lock brakes, tire pressure warning lamp, as well as front, side and side curtain airbags. The Express also offers heavy duty front and rear shock absorbers, a full-size spare tire and a 26-gallon fuel tank to keep fueling stops to a minimum.
Overall, the 2012 Ram 1500 Express is a definite workhorse.
If you're looking for a
2012 Dodge Ram 1500 in the Bronx, Westchester or Yonkers
area give us a call at 888-710-8804 or come visit the Central Avenue Chrylser Dodge Jeep Ram dealership at 1839 Central Park Ave., Yonkers, NY. 10701.