2012 Dodge Charger RT Reviewed
Among America's longest-running car nameplates, the Dodge Charger has established a reputation for being one of the country's first pony cars: a performance-oriented vehicle with elongated nose and shortened trunk. Although it has gone through several changes since its 1966 debut, the Dodge Charger has always been about performance in a sleek package, and the 2012 edition is no different. For the most ardent performance enthusiasts, the
2012 Dodge Charger R/T
trim is positioned above the SE and SXT versions and is the best option.
Options Available in the 2012 Dodge Charger RT Sedan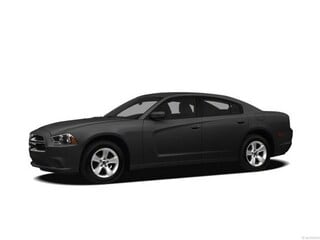 The four-door 2012 Dodge Charger R/T sedan is available in four incarnations, in ascending order: R/T, R/T Plus, R/T Road and Track and R/T Max. Each version comes with a powerful 5.7-liter HEMI V-8 engine that generates 370 horsepower. The engine has Fuel Saver Technology and Variable Valve Timing (VVT) for optimizing fuel efficiency and performance, and it is paired with a five-speed automatic transmission.
2012 Dodge Charger RT Offers Performance
Acceleration with the 2012 Charger R/T is blistering; it can go from zero to 60 miles per hour (mph) in under 6 seconds and cover a quarter-mile distance in under 14 seconds. In addition to such great performance specs, the car has a fuel economy of 16 miles per gallon (mpg) for city driving and 25 mpg for highway driving. Customers have the option of getting an all-wheel drive-train on the vehicle for better control on the road surface.
The 2012 Dodge Charger R/T has the exterior look to complement its emphasis on sporty performance. Riding on 18-inch painted and polished alloy wheels, the car retains the pony-car inspiration of the '60s while enforcing a sleek modern look. Low-Beam HID headlamps, fog lamps and a relatively massive black grill with a red R/T badge adorn the front. A body-color rear spoiler is included for an aerodynamic feel.
2012 Dodge Charger RT Aesthetics and Standard Features
The interior of the 2012 Dodge Charger R/T is loaded with state-of-the-art features. A six-speaker premium system with a touchscreen display, AM/FM/CD/DVD player and Bluetooth wireless technology provides the entertainment. Six airbags and head restraints provide protection in the event of a collision, and a Sentry Key system is installed to deter thieves from stealing the car.
If you're looking for a
2012 Dodge Charger RT in the Bronx, Westchester or Yonkers
area give us a call at 888-710-8804 or come visit the Central Avenue Chrylser Dodge Jeep Ram dealership at 1839 Central Park Ave., Yonkers, NY. 10701.